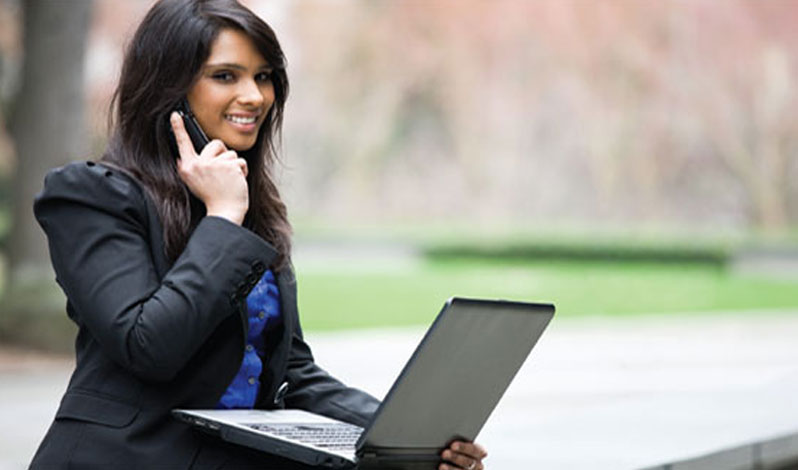 Cross Cultural Contributions
07, May 2008
Featured by Space Coast Business
The Growing Gift of the Indian-Americans
An educated, innovative and hard-working population, the Indian-American community continues to enrich the U.S. market with new businesses, products, technologies and management practices. Today, this group is one of the country's biggest assets in helping to keep its global edge, with impact witnessed not only on a broad scale, but on the local level as well. On the Space Coast in particular, Indian-Americans consistently contribute to new job growth in industries ranging from medical to manufacturing, and hospitality to high-tech.
A Family Affair
Culture plays a big role in shaping the business practices of many Indian-American led organizations. And no matter the industry, social values – including cooperation, tolerance and respect – are prevalent throughout this business community. "The Indian culture is welcoming to all guests. When someone enters a home, we offer them a drink right away or ask if they're hungry," explains Samir Patel, general manager of the Holiday Inn – Viera.
It's no surprise then that Patel's cultural upbringing seems to seamlessly translate to an industry that has been a part of his life since childhood. A second-generation hospitality manager, his parents owned a 23-room motel in Ocala before moving to the Space Coast in 1988 and investing in multiple local hotels. "In the hotel business, we have to be accommodating to every guest, no matter what their attitude may be … We treat them as if they're guests of our home," he says.
Patel climbed the ranks at Holiday Inn from his first position as a breakfast attendant at age 16 to the position of general manager upon graduation from UCF. He points to the "keep the wheel turning" attitude of many Indians as a reason for constant growth. "The majority of Indian business people are strong-willed, hard-working, caring members of society," he says. "And, like my father, many are self-made people."
Investing In America
"Self-made" is a term that also can be used to describe Vinu Patel. He moved to the U.S. from India in 1967 to further his electronics engineering studies, and has since worked all over the world in the electronics manufacturing field. Today, he is the president and CEO of Anuva Manufacturing Services, Inc. in Melbourne, a company that provides high-quality assembly and testing of electronic products, such as circuit boards, cables and sub-assemblies for various companies.
"It felt good to create some employment," he says of the launch of Anuva. As a business leader, job creation ranks high on his priority list, viewing this aspect of his position as a way to give back to the U.S. And he doesn't stand alone.
According to "America's New Immigrant Entrepreneurs," a joint study by UC Berkeley and Duke University released in 2007, Indians have founded more engineering and technology companies in the U.S. in the past decade than those from the U.K., China, Taiwan and Japan combined. In addition, 25.3 percent of the engineering and technology companies started in the U.S. from 1995 to 2005 were founded by foreigners, with 26 percent of these companies having been founded by Indians. This all adds up to new jobs in the U.S.
"This is a land of opportunity for those who want to grab it as it comes," says Vinu Patel, who also heads up outreach programs such as Ma Krupa Charitable Foundation, which provides medical assistance to individuals in need. "We are fighters and innovators. A problem brings you an opportunity, and we just have to look at it that way."
'New Age' Indian Women in the Workforce
Indian women also have been making their mark in today's workforce, as the number of female Indian workers has roughly doubled in the past 15 years or so since economic reforms began in India in the 1990s. Initially, these women frequently took on government office work, but have since assumed more positions in the services sector or in professional jobs, according to a New York Times article.
"The global image of India is that of an upcoming and progressive nation," says Dr. Sue Mitra, a Melbourne internist with Medical Associates of Brevard. "A very important aspect of India in the recent past is the emergence of 'new-age' women who were homemakers, but are now professionals."
Dr. Mitra operates a small practice in a "homey" environment with three staff members who all work closely together. She cares for adults, coordinating evidence-based care for those suffering from complex and/or chronic illnesses. While her formal medical education was received from the University of Calcutta, her fascination with medicine, science and life started at an early age.
"Attending a Roman Catholic school that was run by Mother Teresa in Calcutta, a spiritual belief was cultivated and evolved into a strong desire to be a physician and help people with all my heart and soul," explains Dr. Mitra, who volunteered in Calcutta's charity clinics while in medical school.
Like many of her Indian-American peers in the medical community, she believes that true healing extends well beyond the physical, encompassing an individual's emotional, intellectual and spiritual life as well. Couple this understanding of interconnectivity with compassion and acceptance – two inherent fundamentals of Indian culture – and it's no wonder why the Indian-American community sustains a strong, successful presence in the field of medicine.
Uniting the Space Coast Medical Community
Supporting this presence on a local level, the Brevard Indian Medical and Dental Association (BIMDA) has grown from a small group of physicians at its inception in 1999 to over 180 members today.
"The amazing thing about BIMDA is that it seeks ways to engage all parties in a positive way for the larger benefit of society," says Glad Kurian, BIMDA's executive director. "BIMDA seeks to be the uniting party that welcomes all who wish to contribute to the ultimate goals of better care for patients and better physician relations overall."
Kurian, who founded BIMDA with Dr. Mahesh Soni, came to the U.S. in the fall of 1985 from Pune, a major industrial and educational hub in India. Having already earned a Mechanical Engineering degree in India, Kurian went on to earn his MBA at Florida Tech in 1990. In 1995, he landed a job at Dean Witter (which later merged with Morgan Stanley Smith Barney).
"It was a real turning point in finance and investments at the time from a diversity point of view," says Kurian. "There were very few minorities in my profession back then. I think I was one of the first participants in a new wave that swept the country. With changing demographics and a growing affluent base of Indians and Asians in general, it was an interesting time indeed, full of opportunity."
Today, Kurian is a Certified Investment Management Analyst (CIMA), with Morgan Stanley Smith Barney in Windermere, Orlando. He balances this position with his role as the communications and creative facilitator of BIMDA. He attributes his ability to juggle his responsibilities and lead effectively to traits of his Indian heritage.
"Living in India gives one a keen sense of seeking order and harmony no matter what the odds are, or no matter what level of chaos we are sometimes forced to operate in. It gives one a sense of purpose and direction to excel and to value opportunity," says Kurian.
BIMDA engages in medical education, social interaction, professional development and charitable outreach. It is open to all players in the medical field, seeking to be the uniting party for all members of medicine, regardless of their affiliations or ethnic background – a fact that makes Kurian especially proud.
"BIMDA reflects the warmth that our members have witnessed in America. America is truly a land of overwhelming opportunity. We were all given warm welcomes on our first arrival here," says Kurian. "This is just our way of reciprocating the kindness and grace that we have been shown for many years."

THE EVOLUTION OF INDIAN-AMERICAN INFLUENCE ON THE SPACE COAST
Over the years, various organizations have taken root to serve special areas of interest for local Indian-Americans. While numerous smaller religious and cultural groups also have a presence, the formation of the following organizations has strongly united the local Indian-American community, and has had a positive impact on the Space Coast community at large.
In 1986, Dr. Silas Charles, medical director of Cancer Care Centers of Brevard, founded the first Taste of India fundraiser, which has benefited an array of local charitable organizations over the years.
The Indian Association of the Space Coast (IASC) was formed in 1991 to serve as an umbrella for Indian-American families. Today, its member base is over 400 and acts as a proactive association of volunteers.
In 1996, the first IndiaFest was held, representing a big milestone for the local Indian-American community. The festival continues to draw thousands together each year to celebrate Indian culture and support charitable organizations.
The Brevard Indian Medical and Dental Association (BIMDA) was formed in 1999 to serve local Indian-American physicians and dentists. Today, BIMDA has 180 members with a diversity of ethnic communities represented in its membership.
In 2009, a growing group of Indian-American business leaders formed the Asian-American Store Owners' Association (AASOA), a business association of store owners, gasoline distributors and convenience vendors. Numbering over 700 members, it is a group with formidable business clout on the Space Coast and is extending its influence statewide.
More